When it comes to investing in a good quality website, some Realtors® find themselves asking if it's really necessary. In this advanced digital age, where websites are concerned, to have or not to have is not the question. The real question should be - What and How. In this blog we will demonstrate the importance of having your own website and make a compelling case for building a quality digital presence for your real estate business.
Why Websites are Critical to Every Serious Professional
According to the National Association of Realtors®'s 2017 "Real Estate in a Digital Age" report (download report here), home buyers are more educated and technically savvy than ever before. They look to the internet for resources, guidance, recommendations, information, and validation. The infographic below, from the report, shows just how relevant online searches are for every age demographic. Even the Silent Generation - people in their 70's and 80's are searching online 77% of the time. That's not far behind Millennials who are close to 100% in their use of the websites to search for homes. Also, note that online websites are the #1 method for home search, contrasted by only 50% using open houses in their search.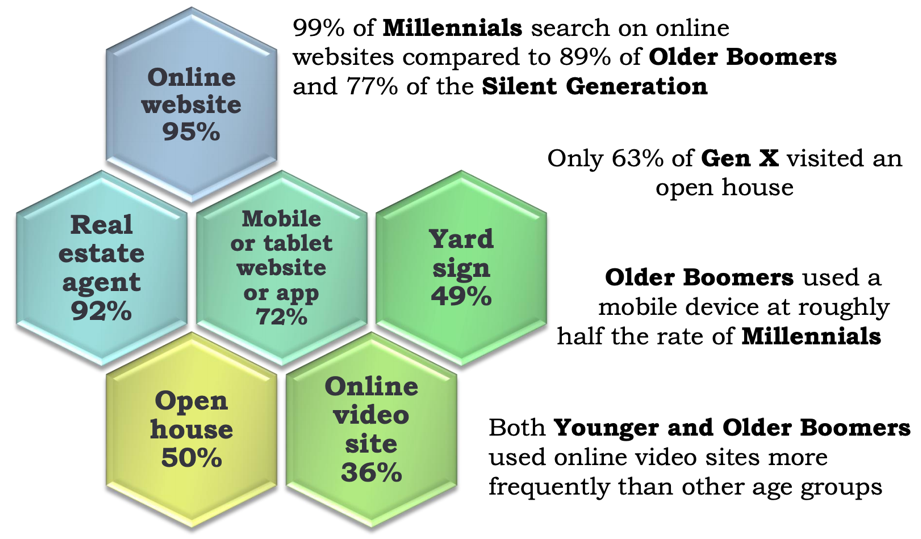 With this demonstrative data, it would be foolish for an agent to deny the importance of an online presence. Given that, what constitutes a quality and competitive digital presence?
Dispelling the Myth of Acceptable Alternatives
Some agents are still operating under the misconception that having their own website isn't necessary because:
Facebook is just as good as a website
The brokerage site is adequate to represent them
The brokerage sub-domains give you your own site and unique presence
Facebook is a social media platform and a great place to build and connect with your network. As detailed in last week's blog, your professional page should be updated with quality content consistently. This is not the primary destination to drive prospects for home searches, validating your expertise and experience, or compelling a call to action. Those are the functions of a website and cannot be properly performed on a social media site.
Your broker's site may be robust and impressive, but if it's not yours, and therefore, not sufficient to represent you. Yes, you want to have a presence on that site, with your bio, contact, and most importantly, the link to your individual site. Relying exclusively on the brokerage site for your online presence does not afford you adequate opportunity to develop your own market, network, professional image, personality, expertise, etc. In addition, your presence will always be locked into to the brokerage, so if you decide to move to another firm, you will have to start from scratch.
The same is true for brokerage sub-domains. This means that you have your own page on their website, which is only slightly better than having no page. You still cannot effectively market yourself online without your own domain and site. When you are your own business, with a unique website and digital presence, it signals to your audience, prospects, clients, and referral partners, that you are a serious professional. You are to be trusted because you take your business seriously.
What are people searching for and how are they accessing that information? Keywords are the main tool for accessing sites through search engines (Google, Internet Explorer, Safari) in a search for homes. Therefore, good websites need to be optimized with the words and phrases within the pages that tell the search engines this site fits the criteria. The best way to optimize a site is to have your own domain and have the site professionally built and optimized.
With the development of so many resources, websites now are easier and more affordably developed, dynamic, interesting, and, as in the case with ListingsToGo, designed exclusively for your industry. Advances in technology allow us to offer significant benefits to our clients that would have been cost prohibitive in the past.
People are looking for websites to help them on their search for a home or a representative to sell their house. Don't be the one hiding on lesser platforms…take control of your business online and get a good quality website. Get it touch for a demo and let us show you how to showcase your excellence in the digital space.