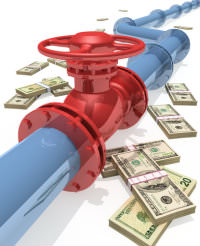 Tips to Keep Your Real Estate Pipeline Full
Real estate can be a demanding and complex occupation. It's easy to get lost in the challenges of the day and lose track of the need to develop future business. This blog offers some ideas to make lead generation a part of your daily tasks.
Develop your database
It's a good habit to get into, spending time every day updating and nurturing the contacts you've made. These may be past clients, current clients, people you've met at a networking event, website contacts, or anyone who is in your list of contacts. These are people you want to remain top of mind for and will be an excellent referral source if done properly. How to nurture these relationships?
Send one person in your database a hand written note every day/week, including something personal about them.
Mail a birthday card to members of your database 3 days before their birthday. There are services to help automate this kind of contact. Make sure you have the correct name/nickname so your efforts don't backfire.
Drip automated emails on your database once per month. You can set up drip campaigns on most email servers, such as Constant Contact or MailChimp.
Have a goal number of conversations per day
By reaching out to real people for real conversations, you establish yourself as an expert in the field and the go-to for real estate needs in your community. Talk to friends, neighbors, acquaintances, other real estate professionals and colleagues. Make sure to mix it up so you don't become annoying with over-communication. You never know what kind of deals may come from a 5 minute conversation.
Spend quality time on your hot prospect list
This is a significant group who hold the greatest possibility of immediate revenue. They are the ones who have actively expressed an interest in your services. They've reached out to you for information about your listings or indicated that they would like your help selling their house. You have the best chance of closing deals with people who are already interested and ready to go.
There are a number of things you can do to nurture this group to turn them from active prospects into clients. Spend time researching their interests and needs. For example, if someone has reached out to you because they want to move to a community where you specialize and they are active-duty military, send them some articles on military services available. Better yet, compile a list of these services or benefits and send that under your own branding. This shows that you are knowledgeable about what's available and are committed to being a resource for your clients.
Be an asset to your clients
The best way to grow your referrals is to do the best job for your existing clients. Word of mouth and personal referrals are the most powerful and far more cost-effective than big marketing campaigns. Knowing that your clients are happy with the work you've done for them, go ahead and ask them for referrals. Most people want to help those who've helped them.
Pay attention
Opportunity is all around and those who are paying attention are more likely to get the business. Note when people in your daily life comment about things like outgrowing their house, downsizing, preparing to retire and move out of the area. These aren't active referrals or hot leads, but you can nurture this relationship into your pipeline by offering information, resources, and solutions when you know where people are in their life transitions.
Keeping your pipeline full is an important sustainability tool. Make sure your digital presence is up to date and impressive when contacts check you out online. This is so key because you can spend all kinds of time engaging with prospects and being a resource, then when they go to your website, if they don't see the kind of professional they need, your efforts are wasted. Let us know if you'd like a review of your sites to ensure the best impression for your prospects.