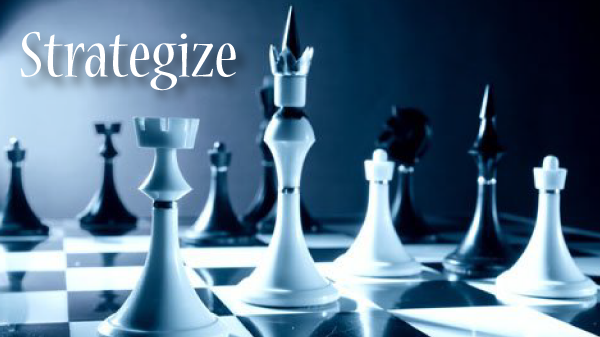 Take the Summer to Strategize Your Real Estate Business
Summer may be the perfect time for you to step back and reflect on your real estate business, past, present, and future. Though this season can be a hot time in the real estate market, it is also a bit more relaxed with fewer business demands - meetings, seminars, conferences, etc. People are thinking about vacations, spending time with their kids, and having fun in the sun. It is also the mid-point of the year. Carve out some time to dedicate to your business now. When fall comes and we're back to business as usual, you'll be ready to hit the ground running. This blog is going to give you some tips to developing a rockstar strategy for your real estate business.
Being a Realtor®, you often work alone. Even if you're part of a team, you, as an independent contractor, are solely responsible for what you produce. That means you may be able to strategize with your team about team goals and processes, but ultimately, your success hinges on the strategy you implement for yourself. Here are some things to keep in mind for your own business or to share with your team:
Realign your Mission and Vision
Take stock in how you're fulfilling your mission as an agent. What was your mission and vision when you started and how does it look now? Your mission is the overarching purpose for doing what you do. Your vision is how you are going to accomplish your mission.
Define your targets
Who are you serving? Who are you trying to reach? If you answered that question, "anyone and everyone", your target is too broad. Specialties and niches are going to enable you to zero in on a group of individuals who are interested in your service. This becomes very important when you engage in marketing. Imagine setting up a Facebook ad to target everyone in the U.S., all ages and demographics. You probably wouldn't get a very successful outcome. Figure out who are your people and they will be your targets.
Set Smart Goals
Specific, Measurable, Attainable, Realistic, and Timely. Look at your goals from the past and make sure they fit these criteria. If not, update them so they do, If you don't have written goals already, now is the time to get them on paper.
Be Firm and Flexible
When developing and executing strategy for your business, you must be disciplined to do what it takes to be successful and follow your goals. Sometimes, however, things change and you need to be able to adjust accordingly. You'll have the best outcome if you stick with what you set up and be ready to shift as needed.
Measure Results
How do you know if you're being successful? If you've set sales goals, you'll know you hit your mark based on your bank account. If you've set goals to develop a team, you can look and see how many people you've engaged. For every goal, you need a plan for how you're going to accomplish it and a way to know when you've hit your mark.
We know how important strategizing and planning is to a business. Now is a good time to do some of this work in preparation for the fall and the rest of the year. Please reach out and let us help you achieve your business and marketing goals.