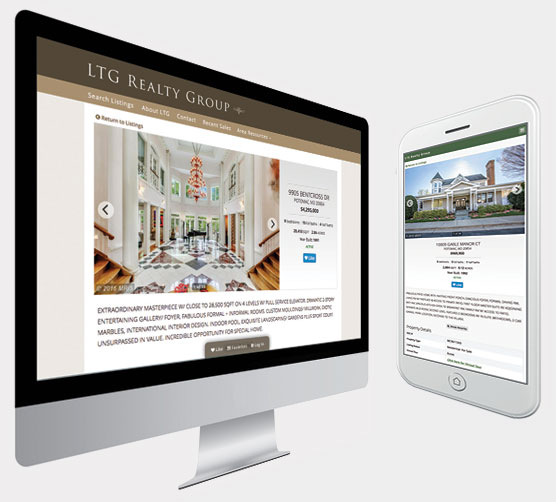 Shameless Self-Promotion
The goal of blogging and creating content is primarily to offer your audience valuable information. This is not only helpful to others, but presents you as an industry expert and keeps your brand top of mind. We whole-heartedly endorse that approach for our clients and maintain that goal for our own marketing. That said, every once in a while, it's not bad to put your strengths, attributes, and unique value propositions out there for all to see! This blog is our plug, highlighting the value we bring to our clients.
At ListingsToGo, our fundamental service offering is high quality, user-friendly, attractive, and robust websites for real estate professionals in the Bright MLS system. Real estate agents present a unique challenge to the marketing industry. Not every web developer out there has the skills, tools, and industry knowledge to design the right website, let alone do it for under thousands of dollars. This is where our unique value really shines. Having designers and developers with a real estate background, combined with advanced technical skills is a powerful combination…and one that results in the highest quality websites for that niche audience.
When you go to our website, look at the Client Sites for examples of the look and feel of our work. The home pages are slick, attractive, and compelling. Notice how the images draw the observer into the site and create a sense of professionalism for the agent. Each one is totally unique for every agent and highlights their individual brand. The varieties of style and presentation are endless.
The look and feel of a website is the first impression, but a quality website doesn't end there. Function is the next step after a prospect is wowed by the appearance of a site. If it doesn't have all the necessary elements, or isn't user-friendly, that on-looker is likely to go elsewhere. This is where the guts of the operation live.
Every real estate website need an IDX integration. This allows people searching for properties to find them right from the agent's website, rather than being diverted to another site. The other essential features we offer include:
Personalized Support - Our amazing customer service staff will help you with all of your website and marketing questions and give you great support. We're here to help your website marketing work for you. Think of us as your website concierge service.
Home Searches - Lightning-fast home and rental searches with Bright MLS listings in the Washington DC, Virginia, Maryland, Delaware, Pennsylvania and New Jersey areas and are easy, intuitive and work great on mobile devices.
Mobile Compatibility - Your website needs to look great on all devices. With the explosion of mobile devices, your site is as likely to be viewed on a phone as a regular computer. ListingsToGo automatically displays beautifully on computers, tablet devices and phones.
Lead Capturing Tools - Make your website a lead-capturing machine with custom forms, call-to-action buttons and more. Route your client leads directly into drip marketing campaigns, monitor your clients' web searches, favorites and more.
Those features make for a highly effective website. But we don't stop there. Our extra bells and whistles take our clients' sites to super high level:
SEO on Steroids - With great search engine optimization on your website, you'll be found on searches in your area. Our built-in tools help you to implement the proper search terms into your site to come up high in Google and Bing.
Saved Home Searches - Visitors to your site can save homes as favorites and easily collect them together for later viewing. You track their favorites and get new visitors as leads when they register and log into your site.
Nearby Home Searches - Great for mobile use, our nearby home search locates nearby homes within a mile radius. Quick and powerful, it gives you the edge up on your competitors.
Blogging Made Easy - Blogging is a powerful way to increase your SEO visibility and increase traffic to your website. Our innovative website manager makes creating new articles easy and fun. Easily add keywords and different categories to your blog entries as well.
Social, Social, Social - With ListingsToGo, we integrate your business into Facebook, Twitter, Instagram and other social platforms. We place social icons and links on all your pages and help you to identify better ways of using social networking to help your overall marketing goals.
Video - It's easy to post and integrate your videos from Vimeo and YouTube into your website. With video blogging, you can create new entries in video format and communicate with your customers in a more interactive and dynamic way.
If you're not getting the results you deserve from your most powerful marketing asset, check out our packages and get signed up now!