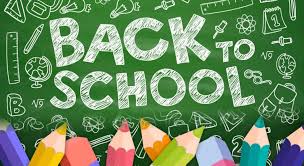 Back to School…Not Just for Kids!
Parents all over the Bright MLS region are preparing their children to start or return to school for the 2019/2020 school year. Back to School can be an exciting time, it can also be a stressful time. There are school meetings, greeting new teachers, making new friends, buying school supplies, ordering text books, shopping for new clothes, and arranging after-school care. It's enough to make your head spin…and we do it every year at this time. Whether you have little ones, big ones, empty nests, or no kids at all, this is a great time to turn our attention to education and the preparation required to advance our careers.
As agents, we understand the value of life-long learning. We are required by licensure to have a certain number of continuing education hours per year. This is to ensure we stay on top of industry trends and regulations. These courses not only expand our knowledge base, but protect us and the valuable business we work so hard to build. This blog will give you some good resources to inspire your Back to School.
National Association of Realtors® is an incredible resource for knowledge, tools, and courses. Though there are other education services available for agents, our national association is the best place to start your search for CEU's (Continuing Education Units). This website has the CEU requirements to retain licensure. Here you can see the number of required continuing education hours for each state where you hold a license.
In addition to listing the education requirements for licensed agents, NAR has a vast network and curriculum of courses from which to choose. Here are the online courses for people who prefer a self-study program. There are subjects about commercial real estate, generating buyer/seller leads, pricing strategies, marketing, and many more.
If you are interested in advancing your credentials beyond the required CEU's, Realtor® University has a Graduate School of Real Estate program. This program allows students to expand their education in what they know best: real estate. With a unique blend of practical and applied learning, students will be able to use this education to advance their careers, their business and their lives. There are also opportunities through this program to advance connections and referrals.
Education is always beneficial and investing in your continued learning is a smart business decision. Having an elevated education status gives you more credibility with clients, referral sources, team members, and business partners. Plus, professional knowledge is applied to your work, making you a better agent and leader. We are fortunate to work in an industry that values learning and skill development. At ListingsToGo, we work with our clients to teach and inspire an advanced online presence…positioning these agents to be on the top of their game. Let us know if you're ready to upscale your business.