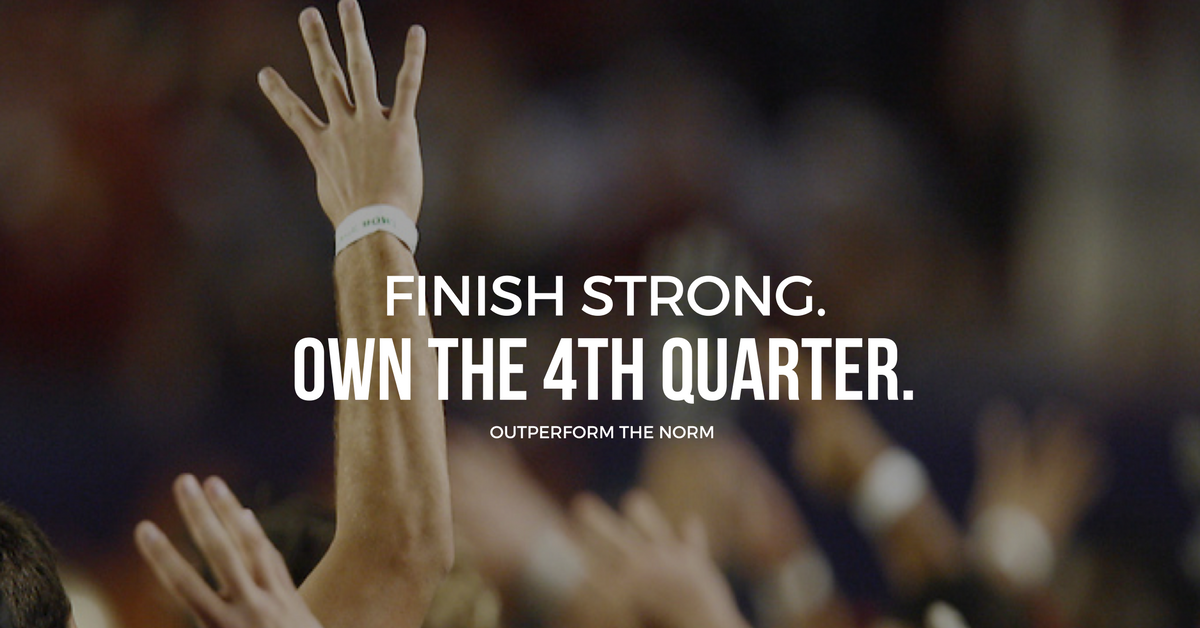 Strategies for a Kick-It 4th Quarter for your Real Estate Business
October signifies the beginning of the last quarter of the year. This is a time many professionals take stock in their progress over the past year and realign goals for the remainder of the year. Did you have 2019 goals for your real estate business? How close are you to achieving those goals? Do they need to be reworked a bit? If you're not making the kind of progress you would've liked to have made by now, what obstacles need to be addressed? Do you need new goals or just an adjustment of your existing goals?
If you are on track to meet your goals for the year, congratulations and keep up the good work. Staying on track with plans, strategies, and productive habits can be challenging, but it's so rewarding when the benefits start to come. This blog is a motivational pitch to help you get or stay on track to develop the most successful business possible.
Set Q4 goals
If you didn't quite get to setting goals at the beginning of the year, now is the time to jump in and end the year with a bang! You may think of this in terms of how many new listings, prospects, new buyer clients, additions to your distribution list, email campaigns, money in your bank account, or any other items that signify growth in your business.
Get familiar with the 90-day rule
The activities you engaged in 90 days ago has set the stage for your level of busyness or slowness today. Likewise, the actions you take today will have a significant impact on your business 90 days from now. How you want to enter the new year should direct your goals, plans, and actions today.
Stay motivated
Now may be the time to ramp up your marketing, sales calls, appointments, advertising, emails, etc. Anything you do to prospect, fill your pipeline, grow your contact list, and present yourself to your target audience sets up the potential for more business now and in the future. Keep your focus on the creating more opportunities and leads. Wake up every morning and commit to making 1 new contact, getting 1 new listing, or 1 new buyer.
Ask for referrals
Most people want to help those they know, like, and trust, especially if those people have ever helped them. This is the time to ask your former clients, friends, neighbors, family members, and business contacts to pass along people they know who are in the market for a new home or looking to sell their existing home. Most people know someone who is or will in the near future be in a position to buy or sell a home. Remind people who know you that you're there to help. You may want to offer something like a free market/home analysis consultation as a hook to encourage people to respond and reach out to you for your services.
If you don't have any business goals, make a few simple ones to ramp up the end of the year. Reach out and let us know how we can help with digital marketing for your real estate business.