Your website is a digital brochure and in many cases, the first impression people have of you and your business. In last week's blog we discussed the value of adding original content to your site. This has such a positive impact on your digital presence and reputation as an excellent Realtor®. We also shared the compelling statistic that up to 97% of the U.S. population looks online before engaging the services of a professional. This should be a serious motivator to ensure your web presence is fresh, impressive, and adds value to your audience. Building on the theme of boosting website value, this week we'll go into other elements to update on the road to making a great impression.
We recently updated our own website with a fresh look and new images. Images, like any other business asset, can get stale and boring. It's hard to realize that images can become outdated, because as time passes we aren't necessarily focussed on how our visual world is changing. When we see a picture of ourselves from 10 or 20 years ago, it is clear how a picture can no longer be relevant. Similarly, pictures of houses, people, clip art, and stock photos can lose their appeal after a time and need to be changed.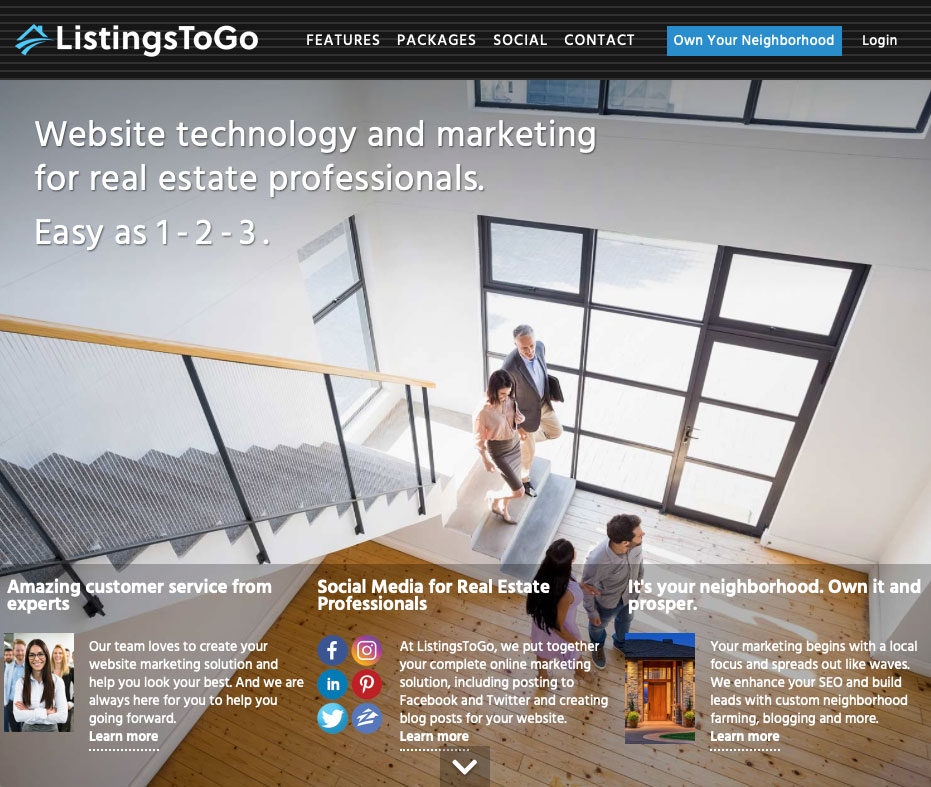 There are several reasons why updating website cover, header, and internal page images is critical. Rapid advancements in technology mean a cutting edge image or video from 10 years ago may have the opposite effect now. We also change over time and if our online image doesn't reflect our brand as we are now, we aren't appealing to our perfect target audience. Have you ever been on the website of a professional and their headshot is 15 years younger, 20 pounds lighter, or sporting a 70's hairdo? If you're like most people, seeing that would cause an immediate negative reaction.
Why Are Images So Powerful?
We are visual beings - picking up subtle messages and interpreting complex dynamics in an instant. An image has the potential to communicate what could take a whole page of text to get across. Text also may not illicit the emotional response of a picture. We are attuned to non-verbal cues, which our brain processes and interprets quickly. What message is your website sending through the images you've selected? What emotional response are you striving for and are your current visuals effective? The old adage is absolutely true - A Picture is Worth a Thousand Words! What is your website saying about your real estate business?
Text is another element that should be updated regularly on your website. Have you participated in events that you'd like to showcase on your site? Do you have new skills, expertise, or awards that your bio should reflect? If you're becoming an expert in Own Your Neighborhood, like many of our clients, are elements of that woven into the text on your site? Is your contact information and social media links up to date? If someone wants to check out your business Facebook page, there should be an easily accessible and visible link directly to that page. Of course, if you're not yet engaging in social media and your Facebook page is your personal profile or very inactive, do not put the link on your site.
Testimonials are essential in this digital era. The human phenomenon known as "social proof" drives us to put a great deal of importance on the opinions of others. This is such powerful behavior that it causes us to highly regard the experience of people we do not know and have no reason to believe. The only criteria for social proof is that the reviewer has had an experience we have not had. Testimonials tell website visitors about the positive experience others have had working with you and your prospects will likely take that on face value and feel more confident about you.
Another excellent reason to update your website with fresh images and text is for the all-important search engine ranking. Every time you add or change something on your website, it signals to Google, for example, that your site is relevant for keyword searches. Blogging satisfies this function well, but that isn't enough. The other parts of your website, such as the Home page, About, maps, and links are also great places to refresh content. We recommend updating your website with any significant changes as they happen and a quarterly review to stay fresh. Not only will the search engines reward your site for this level of website activity, but your visitors will appreciate the dynamic nature of your site. This has a subtle and subconscious effect as people associate what they see with how they feel. If they see your website looking fresh with recent content, they will associate you with someone who is on their game. This reinforces positive associations with your and confidence in your ability to handle their highly prized needs.
Is it time for your website tune-up? We hope these ideas have inspired a commitment to maintaining a quality web presence for your real estate business. We are experts at developing fresh and engaging websites - factoring in the most up to date knowledge and technology. Let us help you make the best impression online.